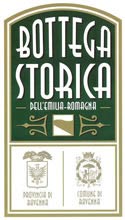 In the mid 1930s, Attilio Cortoni arrived in Ravenna from Florence, invited to manage a fabric shop in the main square of the city. He then left to serve in the army and after the first World War he returned to Ravenna where in 1947 he opened his own shop, named after himself "Cortoni" but also known at the time as "The TUSCANS".
The two historic shop windows are still located where they were at the time, under the arcades of Via Corrado Ricci, overlooking one of the most popular and picturesque corners in Ravenna, an area which includes the Rasponi Palace, the tomb of Dante and San Francesco Square.
At the time Mr Attilio started the business selling only fabrics, which he continued to do for several years together with his wife Linda and their valuable collaborator Vincenzo.
His children Paola and Piero joined the family business in the early 1960's
After a few years fabrics retailing was replaced by the trade of exclusive clothing carefully selected by the owners, who have always favoured and chosen items "Made in Italy" from the Italian craftsmanship tradition.
The third generation began in 1998 with the arrival of grandson Matteo
Thanks to the valuable training received by his father Piero and Vincenzo, he could renovate the image of the family business (refurbishing of the premises in 2003) without changing it. He has also offered the new service of custom tailored suits and shirts to customers.
The family management, enriched by the help of new professionals, still guarantees high quality and professionalism. The family precious reputation of history and tradition is preserved intact.